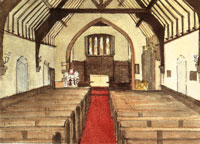 St.Mary's, Aberfoyle raises all its own income to meet clergy overheads, the running costs of our fine Church building, and the annual diocesan quota to the Scottish Episcopal Church.  As part of our commitment to Christian stewardship, we actively promote regular giving to our Church through Gift Aid from our congregation and visitors and we hold periodic fundraising event each year, including a monthly concert, open to all members and friends. As part of its outreach work, St.Mary's publishes a weekly Linkage email and makes donations to UK registered charities from a separate Fund, using income from the annual Harvest Thanksgiving and Christmas Carol service collections.
St Mary's is a registered Scottish Charity and this document is published by the Vestry of St Mary's as its Trustees in accordance with current Charity law in Scotland.
Regular giving is essential to the work of our Church as a living Christian community and not just a building or an institution. Responsible stewardship of all of St. Mary's resources is about more than finance, it extends to all the human and physical resources at out disposal including  the time and talents of our congregation. If you are a UK taxpayer and would like to support St. Mary's on a regular basis, we can provide several methods for making Gift Aided donations. These are covered by a one-off signed declaration which you can cancel at any time.
For a copy of our annual Report and Accounts for the year  just click on this link which will take you to our Documents column.
Remember that you can assist the Church even more by filling out the front of the envelope in your pew each week, and turn your weekly donation into a Gift Aid donation.  This enables the Church to reclaim the tax you pay from the Chancellor.  Or ask the Treasurer for a weekly envelope.
Scottish Charity No: SC 023266                                                    
Inland Revenue reference: CR 33886
April 2020
---