Coming to St Mary's
We like to think we are open and welcoming, and hope that you will find this to be the case. If you arrive after the service has started, we don't mind! Please sit anywhere – no seats are reserved. There is wheelchair access to the building and space inside for a chair.
Although there is variety in our services, most have the same basic shape. Anyone who is a confirmed member of a Christian denomination is invited to receive Holy Communion.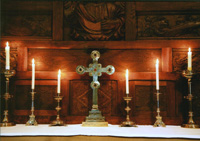 If you are not confirmed, or do not wish to receive, please come to the altar for a blessing. Carry a book in your hand to signify that you wish to be blessed rather than receive.
After the service refreshments are served in the Church Room. You don't have to stay, but we would enjoy getting to know you!
About Jon  – our new Rector
Our Rector, The Revd Jonathon Connell was installed as Rector of St Mary's Aberfoyle and St Andrew's Callander in early August.
Jon was born in Canada and raised at Fort McMurray in northern Alberta.  Since July 2017 he has been Priest-in-Charge of the Pembroke Family of Churches in Bermuda which consists of four very different congregations with varying needs and styles.
He has a BA in Art and Design from the University of Alberta and a BTh from Wycliffe Hall in Oxford which included placements at Jesus College Chaplaincy and St Andrew's Church. During his time in Oxford he also coached Queen's College Women's VIIIs and the University Women's Boat Club.
Jon and Fiona attended a traditional high Anglican church where they regularly sang Merbecke's 1550 setting of the Lord's Supper which was very different from the style they found at St Aldgates (Oxford) when Fiona found a position at that charismatic church. This range of style has brought an appreciation of both high and low traditions and they appreciate traditional and more modern services.   
Jon and Fiona returned to Canada to be close to their families when their elder daughter was born.  Initially Jon worked in the secular field combined with part-time ministry work until he was ordained in 2009.  He held a number of church posts in Edmonton culminating with the appointment as Rector of the Parish of the Good Shepherd before the family moved to Bermuda in 2017 with their two daughters, now aged 14 and 16. 
Fiona, who is very involved in Jon's ecclesiastical life, was born in Canada after her parents emigrated in the 1960s.  Her roots are very much in Scotland and apart from her mother, who is still in Canada, Fiona's family is mostly based here and in northern England.  The Connells were last in Scotland in 2019 when they spent time with Fiona's grandmother in Brora.  Fiona is a Highland dance teacher and judge and both daughters are interested in various forms of the performing arts.
Whilst life in Bermuda is idyllic Fiona and Jon have long wished to return to ministry and life in the UK and they are looking forward with much anticipation and excitement to settling in this part of the world.
Away from ecclesiastical life the family likes to entertain and amongst other things Jon enjoys renovation projects and gardening and looks forward to the challenge of a garden in a very different climate from both Alberta and Bermuda.  They are also looking forward to cycling in the forest and exploring the area.