Coming to St Mary's
We like to think we are open and welcoming, and hope that you will find this to be the case. If you arrive after the service has started, we don't mind! Please sit anywhere – no seats are reserved. There is wheelchair access to the building and space inside for a chair.
Although there is variety in our services, most have the same basic shape. Anyone who is a confirmed member of a Christian denomination is invited to receive Holy Communion.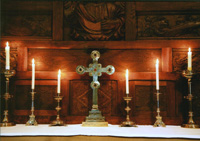 If you are not confirmed, or do not wish to receive, please come to the altar for a blessing. Carry a book in your hand to signify that you wish to be blessed rather than receive.
After the service refreshments are served in the Church Room. You don't have to stay, but we would enjoy getting to know you!
About Richard – our Retiring Rector
Our Rector, The Revd Canon Richard Grosse retired on 1st May 2020. He arrived at St Mary's in 2004 and has given us the most wonderful ministry. We wish him and melanie the very best and a happy retirement.
Richard was brought up in London and qualified as a solicitor in 1977 have served articles in Kent. He practiced in Cambridge, latterly with two colleagues on their own account. He completed theological training at Ridley Hall and served his title in Soham Cambridgeshire. Thereafter he served parishes in North Yorkshire, County Durham and North East Lincolnshire before being appointed to the Linkage of St Mary's and St Andrew's in 2004.
Richard was appointed Canon of St Ninians, Perth, in March 2015 and was Synod Clerk to the Cathedral Chapter. He has now been electd an Honorary Canon