Background
Casting the Net, with which St Mary's has been involved,  has been part of the Diocesan Policy and Action Plan.  Whilst this is still 'current' the work involved in adopting the process was found to be most useful. Our current Bishop is we beleive developing fresh ideas.

The Diocesan Review Summary 2007
The Diocesan Summary 2007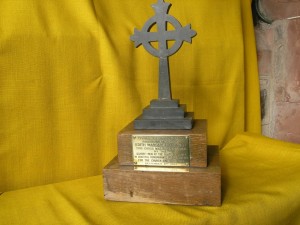 Diocesan Policy & Action Plan May 2008     Reviewed in May 2012
Part of the process is for St Mary's to have a Mission Action Plan.  This plan was first developed and approved in May 2012 and this document was revised in October 2013.
The Mission Action Plan is based on Sharing our Faith and  Working with Young People.  The plan commits St Mary's to actions over the next three years. 
The Process
Casting the Net is a new initiative that will help us to grow as congregations which are strong in faith and attractive to people who are seeking answers to deep and spiritual questions. What's involved?Casting the Net is a simple but powerful approach to congregational growth. It asks us to think about our congregations as living communities of God's people. It asks us to explore practical steps which we can take along the path towards growth.It asks each of our congregations to do three things:
Reflect together on what the spiritual and community life of a healthy, growth-oriented congregation should be.
Apply that thinking to their own congregational life, identify the most important areas for development, and build a coherent 3 year plan to address them.
Act upon the plan, with regular monitoring and review of progress. Why is this so important?
A move from decline to growth is central to the new Vision and Strategy for the diocese. From the review process during 2006/7, however, it became apparent that many of our congregations don't have a clear picture of 'where they are going'. It was also obvious that we lack an integrated picture, spiritual and organisational, of the whole life of our congregations.
Casting the Net is a natural development of the MYCMI and Mission 21 programme, but it goes much further. We know that to thrive and grow on a sustained basis we now need a comprehensive framework for congregational life, with a strong orientation towards mission and growth and one simple but powerful process to work with it. What is a healthy, growth-oriented church?Within the Casting the Net programme, the framework that congregations throughout the Diocese will be asked to use is based on "The Nine Marks of a Healthy Mission-Shaped Church".
The Nine Marks of Mission
At Pentecost 2009 all parishes were asked to launch the Casting the Net programme, which encompass the Nine Marks of Mission. The Vestry, the Congregation and the Rector considered at length how to 'make a difference, by implementing a meaningful and effective programme. Mark 4 and Mark 7 were considered to be the most relevant to St Mary's.The Nine marks of Mission are :
1. Worship that renews and inspires,embracing the rich variety of our traditions
2. Transformed lives and communities, through receiving the Good News of Jesus Christ
3. Lifelong Christian nurture:deepening the knowledge of God in our lives
4. Reaching out to children and young people, because mission-shaped churches seek to engage with children and young people
5. Rooted in prayer, word and sacrament: experiencing God and his will for us
6. The welcome of newcomers and celebration of life events:helping newcomers become part of the life of the church and making the most of special occasions
7. Sharing faith by confident and sensitive evangelism, witnessing to God's presence and power
8. Serving the community in practical ways, reaching out to others, especially those in need
9. Ready to seek growth and Cast the Net
The Plan was launched at a special service conducted by Bishop David Chillingworth on 5th February 2012.  The plan was reviewed by the Vestry in 2013, with some minor changes being adopted.  Bishop David visited St Mary's in October 2013 to review our progress.
Where are we Now ?
St Marys' decided to adopt Marks 4 and 7 and our Mission Action plan reflects this.
The plan will be reviewed by the Vestry on a regular basis and reviewed as circumstances change and targets are met.
You can see a copy of the revised Plan here by clicking on this link.