Our youth activities promote our values and help build lifelong friendships.
We at St. Mary's believe that our young people are very important.
Godly Play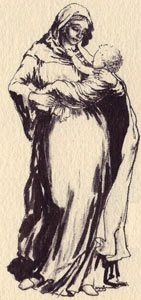 At St Mary's we have been exploring the material called Godly Play.
It is mostly aimed at Primary-aged children but all are welcome – and have been meeting in the Church Room at St Mary's once an month,starting at 11:00 and ending in time to join the main church for the communion and to share what has been going on. Stories for children are told using materials that the children can touch and interact with. It is quite new to scotland and St Mary's been running since February 2011. It started in the USA by an rector who saw not much was there of the children of his church and created theses stories in this form. To help the children to grow spirituality.  This activities are all wonderfully imaginative and based on the phrase ' I wonder …' at the end of the story told to get the children thinking and involved it what the story was about. The session ends with an 'small feast' like in communion all sat in an circle eating an light snack of biscuits and cheese, along with an small cup of juice. 
Godly play usually meets once per month in the Church Room which is at the back of the Rectory.
Please ask the Rector, or any member of the Vestry or email James Gardner youthandchildren@standrews.anglican.org 
for more information, and if you have any questions or enquiries.